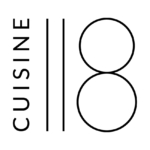 Voorjaar 2023
Voorjaarsfolder loopt t.e.m. zaterdag 8 juli.
Nieuwe zomerfolder komt er na ons verlof vanaf woensdag 26 juli.
Communie, bezoek, feestje, …? Maak het gezellig! Wij bereiden jouw feestmaaltijd die je gemakkelijk en snel kan serveren, zodat jij ten volle kan genieten van je gezelschap. Diverse formules: Koud buffet, tapas, klassiek menu van hapje tot dessert, … of kies hapjes of desserts à la carte. Spring gerust even bij ons binnen bij vragen of om de formules samen te overlopen.
Feest!
Kies één van van onze formules of kom langs om onze formules verder op uw wensen af te stellen. Cuisine 118 zorgt voor een culinaire ervaring die net iets anders is. Wij zorgen voor een perfecte service: steeds mooie presentatie van onze culinaire (koude) hapjes/gerechtjes op bord. Warme gerechten voorzien wij steeds zodat deze snel en makkelijk kunnen opgewarmd worden door de klant. Zo kan u zorgeloos genieten van uw gezelschap!